A community. A garden.
I took the day off today.  Burned one of those holidays that keeps piling up on me. 
I've been planning the day for about six months.  Having the day off meant everything.  I was planning to get sweaty and dirty and sore.
Mission accomplished.
I was one of 80 people (okay, actually more than 80 people because we had extra volunteers come out) who took a swampy grassy area and built a garden.  I'm one of the lucky ones, I'm getting a plot there.  I'm going to have an area all on my own to plant and grow my own food and create all to my own. 
This simply wouldn't have turned out anywhere near as wonderful as it has without the generous support of Fiskars, Canadian Tire, and the Calgary Horticultural Society.  They each sent out 20 volunteers and together we created something amazing and special.  We worked hard, we put all kinds of sweat equity into the build, we finished on time and in fantastic shape.  I cannot begin to express my gratitude to you all.  You came out and worked with indefatigable effort, but I'm the lucky recipient who gets to enjoy the work after we're done.  Thank you.  Thank you all.
Special thanks to the people from Fiskar's Project Orange Thumb who did a superb job planning, organizing and building this amazing centre of our community.  Thank you for making our vision a reality.  Thank you to Canadian Tire for the tools and the living plant material.  It's incredible to have your support with a build so late in the year.  To have such lovely plants and to be able to have a productive year when we built it on July 27th is wonderful.  To the Calgary Horticultural Society, I can only express a shadow of my thanks for the incredible support, advice, help, and assistance along the way until we could make this project viable.  You're all rock stars.
To the City of Calgary, thank you for your support to enable us to make this garden even possible, and all the amazing help with irrigation and mulch.
Thanks also to Joe Lamp'l.  I really look up to you and respect your advice and your effort today in our build.  It was a real honour to meet you in person.
And a most sincere thank you to our next-door hero, Algernon Wilson.  You've spearheaded this, you've been tireless, you've been boundless, you've been a guidance and an inspiration.  I am eternally grateful to have the pleasure of working with you.
Paul, Simon, Kelly, Peter, Marlene, Chris and everyone I recognize but don't know by name yet, thank you for coming out.  It really means a lot to me.
And with that, let me take you on a short guided tour of the Albert Park Centennial Garden.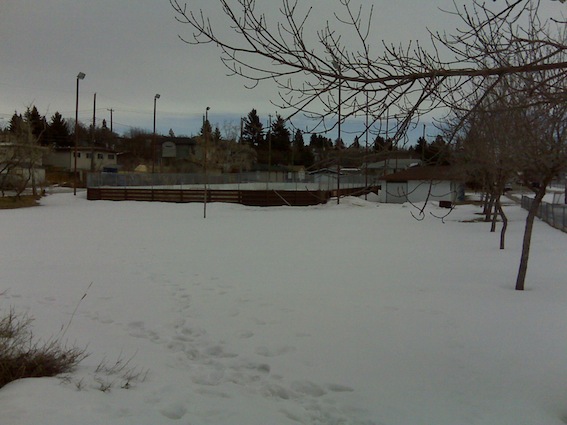 The site in February. Looking due east. La playa del Zaugg is about dead centre in this photo.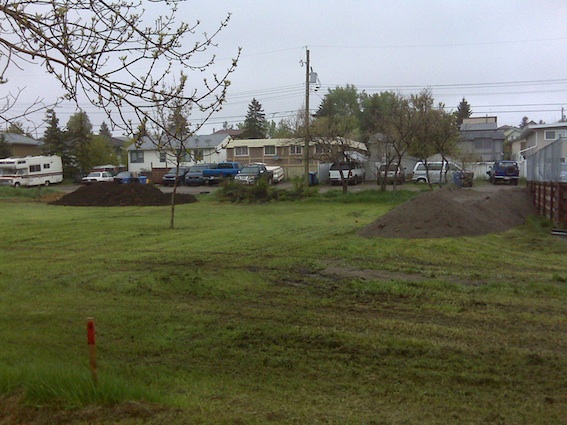 The site as of June 4.  Looking from the south east entrance.
What a difference we made.
Me at the southeast entrance.
Southeast flower bed, just inside the entrance.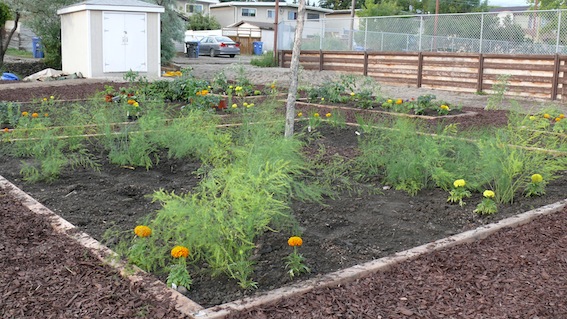 Asparagus bed.  Please note the lone elm tree in the middle of the garden.  It's featured in a lot of the other photos.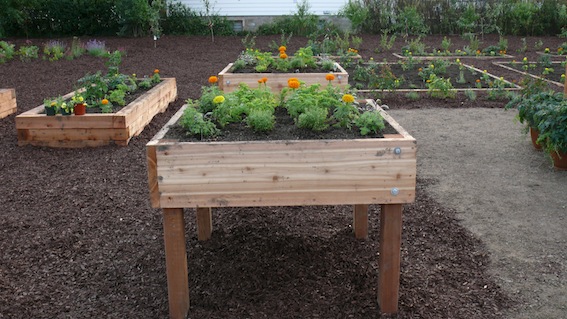 Our two raised, wheelchair accessible beds.  This is looking west from the entrance, just south of the pergola.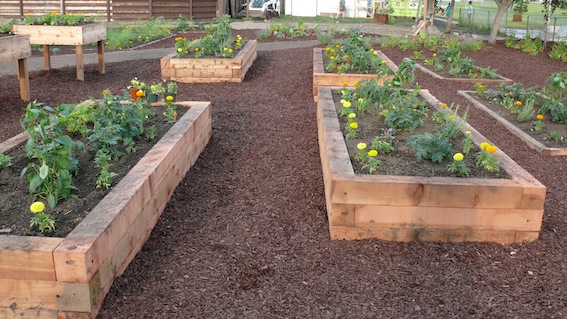 Some of our raised beds, just south of the wheelchair accessible beds.  South of them are some of the in-ground beds.  (This is looking east, the wheelchair beds are at the left.)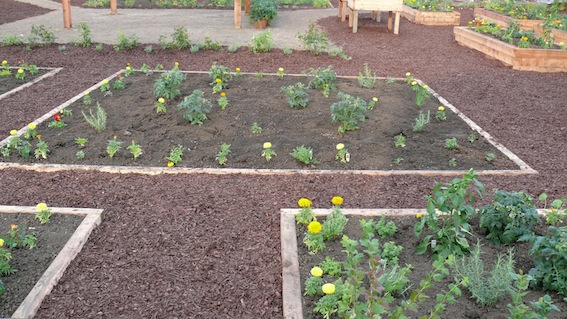 My plot, 15-South, is the right half of this in-ground bed.  I'm casually calling it "La playa del Zaugg" for now.  Still looking east, the raised beds are to the right.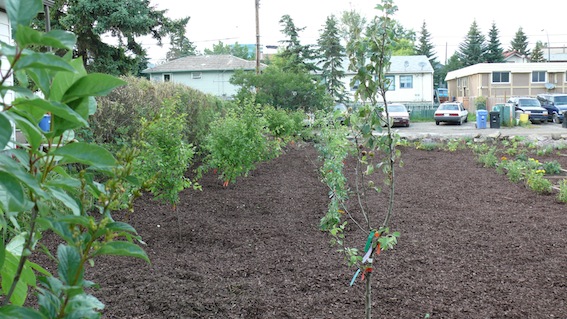 The fruit orchard.  This is from the southwest corner looking north.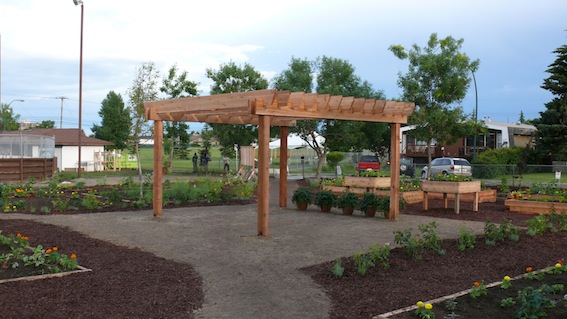 Our central pergola.  I spent the majority of the morning assembling it.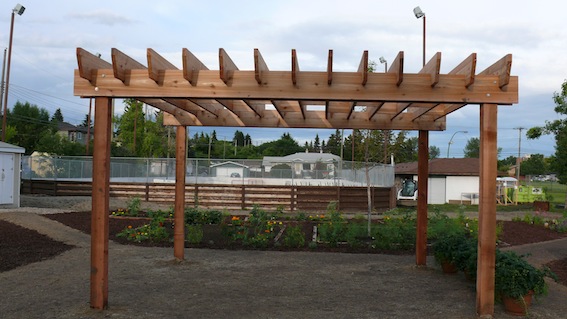 Side view of our pergola.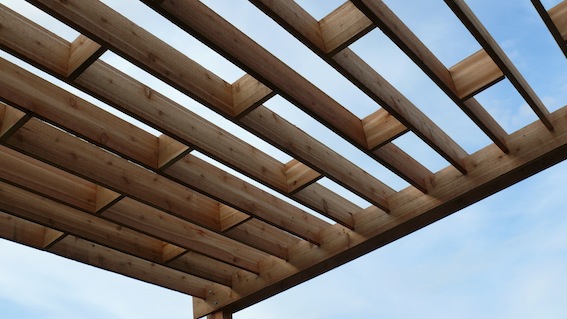 Under the pergola looking up.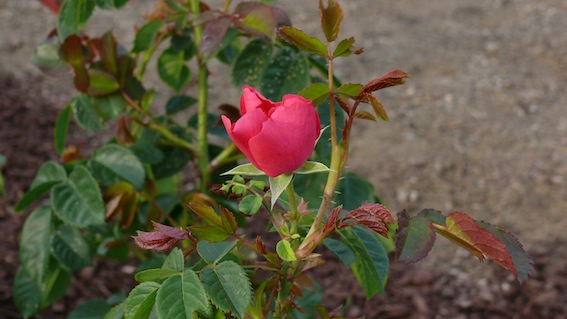 The beautiful rose in front of la playa del Zaugg.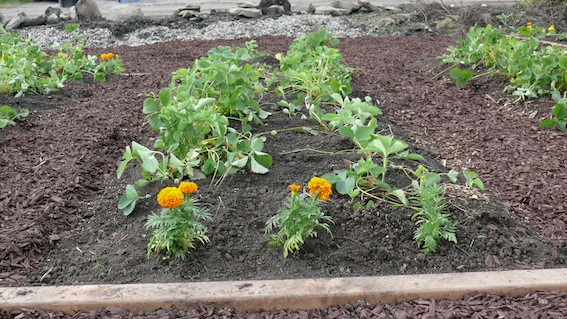 The strawberry beds.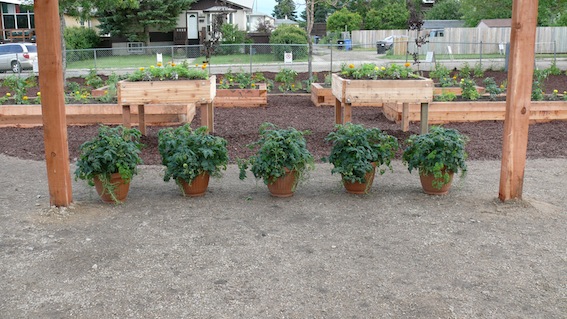 Pots of tomatoes lined up under the pergola.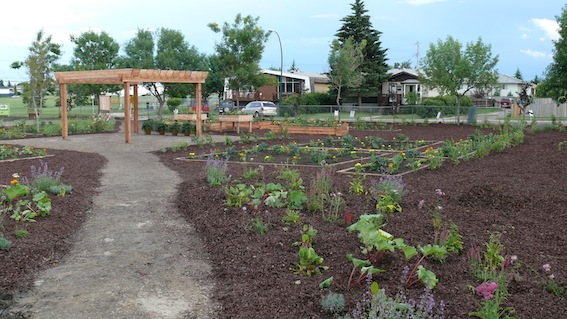 Overview of the garden from the northwest corner.  La playa del Zaugg is centre-right, behind the other in-ground bed.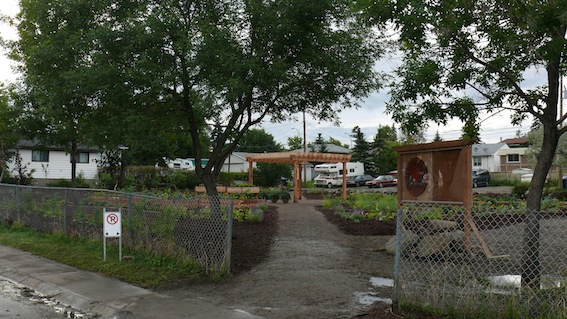 Overview from the southeast entrance to the garden.
Please, come visit some time and see it for yourself.  I'll be thrilled to see you out there!