The Full Buyer's (remorse) Experience
I know, I'm getting really curmudgeonly lately.  I don't think this is entirely my fault.
My son's Magsafe Apple Adapter finally completed it's long, slow, death.  Wait, tangent time right now:
I love the Magsafe adapter.  I love it beyond reason.  It releases with enough of a tug that it has saved my computer from being pulled off a desk when someone trips over the cord.  It comes apart cleanly from the computer so I don't have to worry about the tip of the charger getting bent and no longer fitting into the laptop.  It's solid enough to hold when I'm typing in bed and shuffle a little one way or the other.  Apple found a great compromise with how to make it work for charging and detaching.  Then Apple did what Apple does and kept it proprietary.  No one's licensed it, you can't find a laptop that uses one that isn't a MacBook.
Then Apple did what Apple does and came out with the Magsafe 2.  Which is obviously not compatible with the original Magsafe except that you can get a Magsafe to Magsafe 2 adapter (although ghod forbid, you can not get a Magsafe 2 to Magsafe adapter which is just lunacy because no one would want one of those!)  [Sub-tangent, I think the proper naming here would be "Magsafe Power Adapter to Magsafe 2 Power Adapter adapter", but I would like at least one of you to be able to read to the end of the post.] 
Now, to be fair, there are sometimes good and compelling reasons to force upgrades and break backwards compatibility and that may be the case with the Magsafe 2 upgrade, but Apple fails full force here.  They have 45 watt, 60 watt and 85 watt options, all of which are the same size and they are definitely not equivalent.  I have used a 60 watt adapter in a MacBook Pro 15 - it'll sort of work, but it's not up to the job, it won't provide all the power you need, and you want to stick with the 85 watt option.  Meanwhile the 85 W Magsafe Adapter is compatible if you get the Adapter adapter.  Hoo boy.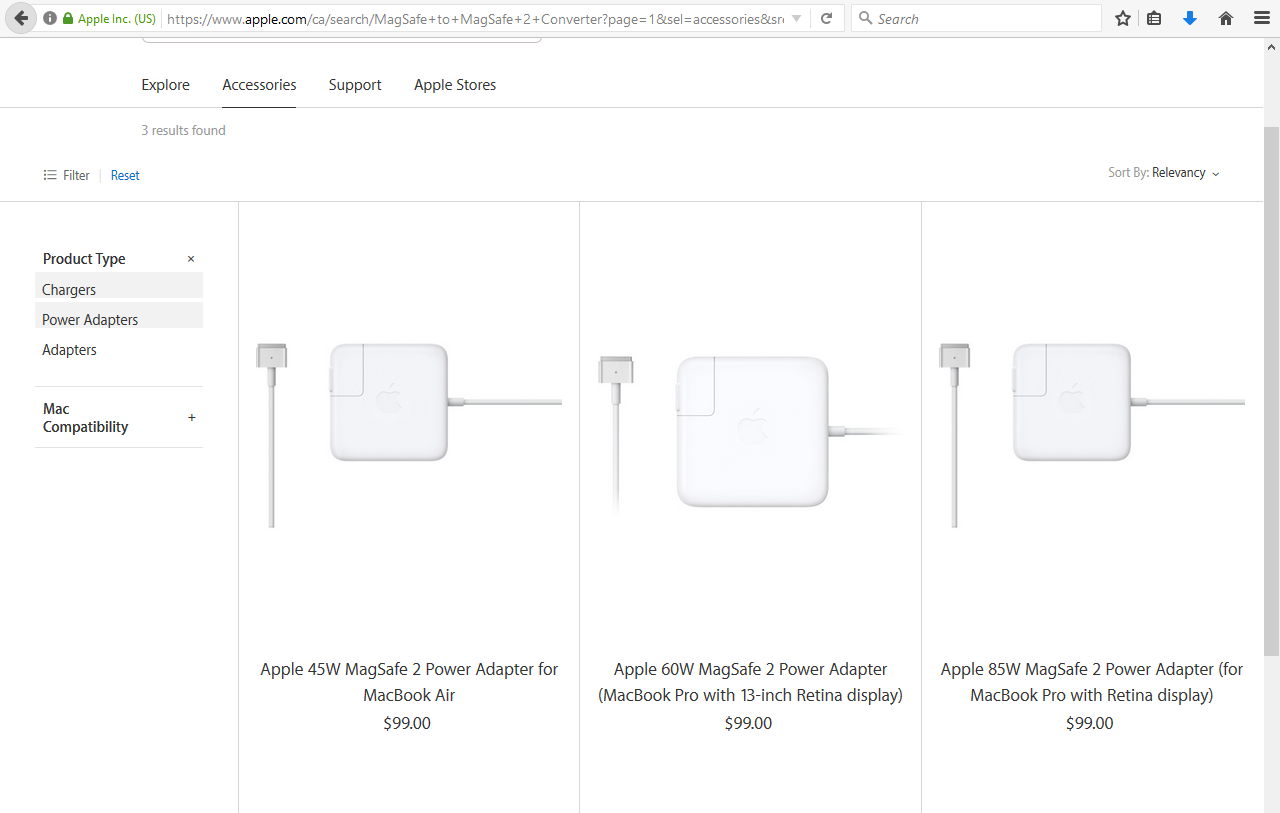 I don't know for sure if Apple needed to change to the Magsafe 2, but if they can't stick with one, they definitely should provide better distinction between what is currently on offer.
THEN Apple did what Apple does and has killed the Magsafe adapter for USB-C for charging.  It makes sense – if you're willing to throw all all the great things Magsafe had to offer for detachability.  I'm not willing to do that.  Thanks Apple.
Back to the main story, which at this point is still two sentences long.
I need one (1) 85 Watt Magsafe Adapter.  Forget ordering it online from Apple, they've purged it from their retail memories.  Clearly they can not stop making Magsafe Adapters, there are a lot of older Macbooks still being put to good use.
Okay, I'm driving the boy to band today, I happen to be going past Chinook Centre, I'll swing past the Apple Store and grab one in person.  I know what I want, it's early in the morning, I'll be quick, right?
Wrong.
The first point to mention is that I aggravated my left hip again this morning, so to begin with I'm walking slowly.  Naturally, I park at the wrong end of the mall and have to walk nigh the length of Chinook.  That's on me.  I'm starting off grumpy and impatient.
I find the Apple Store, walk past the gizmos and gadgets I don't much care about and head to the wall at the far end of the store that will likely hold the power adapters.  Success!  On my first go!  I am a geek, after all.  So I reach around the people blocking access to what I want, pick up the adapter I need and then…
Where the hell is a cash register?  How the hell am I supposed to pay for what I want to buy?
A woman in a green shirt cradles an iPad in front of her.  We get each other's attention and she asks if I need anything.  "Yes, how do I pay for this?" I ask.
"I'll find someone."
'Are you NOT someone?' I think to myself.  I mean, the whole idea of a greeter playing traffic cop is fine, I guess, but I tend to find the experience creepy.  The premise is the traffic cop can triage the customer's needs, direct them to an appropriate sales rep (ahem, customer service representative) and flow people through the store more efficiently.  In my experience, it feels more like an intelligence gathering operation where the iPad wielder gathers my name, email address, phone number, social insurance number, credit card information, mother's maiden name and the middle names of all my children both born and unborn.  Yes, an exaggeration, but I have literally had name, email and phone number collected at this point which is also literally creepy.  It's also really creepy when the traffic cop is collecting this info when I'm the sole customer in the store, or when there are multiple people I can actually see standing around waiting to help customers.
She gestures to one of the people who were blocking my way to the adapters in the first place and throws a "When you're done there" nudge.  Again, there are other people standing around.  I'm wondering if I had the sad misfortune of having to wait for the one person who has authorization to take payment on Magsafe adapters that day.
Did I mention my hip?  It's really starting to hurt from standing around now.  I'm shuffling around, trying to not appear too anxious while not supporting all my weight on my sore leg.
Someone walks up behind me and asks, "May I help you?"  Aww, yiss!
"I just need to pay for this."
"Did you find everything you need today?"
Now…  REALLY?  Hold on.  I'm the guy that walked (well, hobbled) into the store, walked directly to the one thing I wanted to buy, got it off the shelf and immediately looked for a way to pay for it.  This IS what I needed today.  Shut up and take my money.  I think I managed to keep it to my inside voice, but I'm sure my dirty look gave me away.
"The price will be $103.95.  Will that be okay?"
My silence was stunned.  We all know that Apple as a company is foundational to the barter society we have today.
  "Ah, the lady is a friend of Rick's?  For friends of Rick we have a small discount.  Did I say 700 francs?  You can have it for 200."
I'm pretty sure I'm not going to be able to talk down the price or have you throw in a new MacBook with every power adapter, so how about we just run this and get me out of here, okay?
"Is an emailed receipt good enough?"
"Uhm…  No.  I need a printed copy."  Also, it's just creepy when everyone expects to collect my email address for everything.  I get enough spam.  Stop it.
Okay, now I'm sore, I have what I need, I just want to get the unholy hell out of there, head home and soak in the tub for an hour.
Crazily enough, there's a reason behind writing this.  Apple has spent so much effort crafting the Buyer Experience that they've made an entirely craptastic experience for me, the guy that knows exactly what I want and wants to get in and out as quickly as possible.  Somehow I've fallen so far off Apple's target audience that they just don't care I exist any longer.  And I'm a geek and I'm supposed to be one of the people they rely on for positive recommendations!
That iPad traffic cop is supposed to be the person who figures out 1) I know what I'm doing, 2) I don't intend to stick around a second longer than absolutely required and 3) I won't delay a sales rep from helping someone else who actually wants the full Buyer Experience.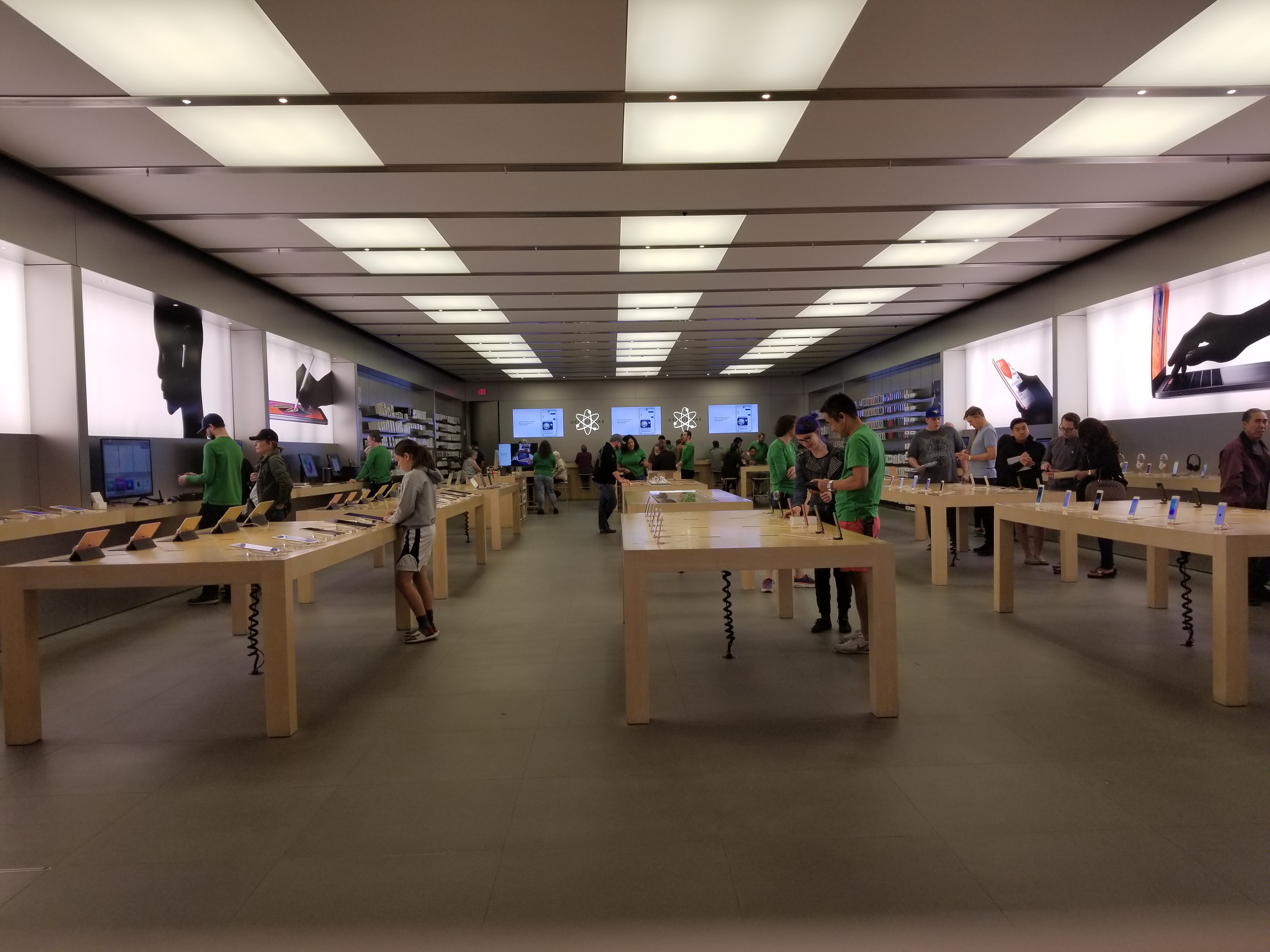 I thought Apple was famous for a good User Interface that was intuitive.  Not having registers or even a check out area is breaking that shopping expectation.  Some people are going to like that, I just want to get in, get what I need, and get out.  If you can't allow me to have what I want, at least do not throw up barriers seemingly at every step to keep me in the store longer than I want to be.
Next time I'll take my curmudgeonly self out of my way and go to WestWorld.