Dziadek's Tie Pin
This is my grandfather's tie pin.  Dziadek's tie pin.
It is beautiful and my favourite memento of him.  I know it was a gift to him.  It is real gold, I have no idea the quality, and has six birth stones set in a circle.  I don't even remember which belongs to whom.  One is Dziadek's, one is Babcia's.  Two are for my uncles, one is for my Aunt. One is for my Mom.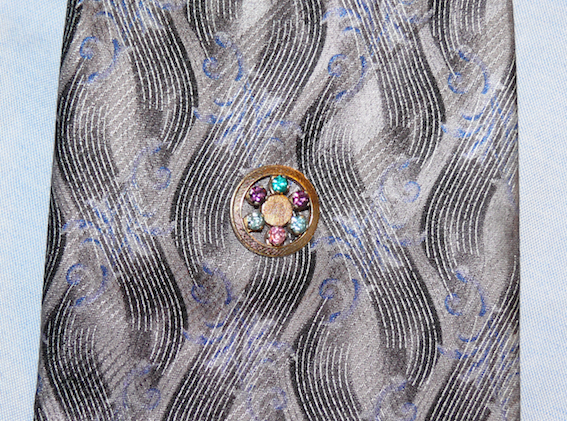 I love it.
Dziadek was a Russian artillery officer in World War II.  Assuming I have the story right and assuming he told the full truth to my Mom when she recorded and then translated his history.  (We know he didn't.)  We also know he had a hard life.  I have no idea how he survived starvation, hypothermia and extreme poverty as a child.  I assume he joined the Russian army to escape the poverty but it's equally possible he was conscripted - I just don't know.  I have no idea how he survived the war.  His war stories were horrifying.  He said he had it good - he was flown around to fight where needed.  And yet he still told a story of his buddies running forward to strip boots from fallen soldiers so they could have footwear.  Some truly horrifying stuff, and as most veterans I assume I only heard the nicest of the horrible stories.  He was taken as a prisoner of war.  The stories of being in POW and concentration camps weren't much better.
For the record, he was welcomed to Canada and became on of our own, but to his dying day he was afraid the KGB would find him and take him back to the Soviet Union and later Russia.  He went to his grave grateful to be on Canadian soil.  I try to remember the blessing of being here.
At his eulogy my Mom called him a survivor.  There was never a description more apt.  He was a flawed man, but he was unquestionably a survivor and kept trying to keep his family cared for.  Today when I think of him, I think of the word "survivor" first.  Through starvation, through a war, through being stuck in post-war Germany, through coming to Canada and setting up a new life as an immigrant to a new land.  He always got through.
His tie pin gives me strength.  I wear it to court when I fight to stand up for our rights against the depravations of liars.  I wear it to weddings to remember the strength and resiliency of families.  I wear it to dinners when I want to keep my tie out of my meal.
With that tie pin, I walk with his strength and stubborn determination to survive, but also the humility of a man who had pulled through ridiculous odds against him and made his surroundings just a little bit better.
It is very special to have worn Dziadek's pin today.  I attended the Calgary Foundation's Vital City 2013 event.  It was amazing and I am very honoured to have attended.  I said on Twitter that I literally could not walk 10 feet without meeting a friend, a colleague or a person who inspires me.  I stand behind it, that was an amazing moment.  I have no idea how many people were there, but each and every one of them were actively involved in making Calgary a better city.  People I had met once or twice, to friends long standing and much admired.  Names I had admired from afar and felt honoured to just shake their hand, other folks I rub shoulders with regularly - although perhaps nowhere near as often as I would like.
I think I can safely say that the highlight of the evening was being addressed by David Johnston, the Governor General of Canada.  I'm not entirely particularly certain of where I stand with regards to the office of the Governor General, but I most certainly understand how Mr. Johnston is both inspirational and deserving of the role.  He spoke with clarity, with enthusiasm and with a deep respect for Calgary, for Canada and for the people here.  I was most impressed with his inclusivity of the community as a whole.  Calgary and all it's people.  You could feel his inspiration from how Calgary pulled together magnificently to respond to a difficult flood.  We are not a perfect city, but we have set a standard on how to be resilient, how to build community, how to create a place that is more than the sum of us all.  He genuinely transferred caring and concern for our Aboriginal peoples throughout the night.  He recharged my soul tonight and reminded me that the efforts of us all have been noticed and admired.  We are smart, or caring, but either way we're part of this city.
Dziadek's tie pin was there through it all.  From the meekest survivor in front of the emblematic head of government in Canada.  We truly do all have a role to make Calgary, and in fact our world, a better place.