Sentimental Journey
Goona take a sentimental journey
Goona set my heart at ease.
Goona make a sentimental journey
To renew old memories.
Doris Day, eh?  I honestly didn't know that.  I actually hear my mom singing it in my mind.
In some respects, Mom and I are very opposite people.  She loved travel, I'd much rather stay at home.  I love science and technology, she tolerated as little as was required to get what she wanted done.  Put me near a beach and I head straight for the water while she stuck to the sand.
She directly gave me many of the passions I have in my life.  An endless love of music.  A rock solid sense of justice.  Acceptance and welcoming of neighbours as friends.
The trip to Costa Rica was a gift for my daughter.  I think we all wish that the two of them went together, but it didn't work out that way.  What I'm finding so difficult upon our return is how emotionally charged the trip is now that it's over.  Prior to the trip, it was easy to say that I was taking her in Mom's stead.  Now it's really tough.  As of today, officially, we went, had a great time, and that's the extent of it.  Im not going to add any further explanation.
Earlier I mentioned the opportunity to see Southerly skies as my treat.  I also talked a bit about being outside the hotel in San Jose, looking up, and not recognizing a single damned thing above me.  That was pretty odd.  But if you're reading this, you know me well enough to know I wasn't going to settle with a little stargazing befuddlement.
Near the end of the trip, at the JW Marriot along the Pacific coast of Costa Rica, I was able to find me a relatively dark corner just south of the hotel.  It was far enough away from the trees I could get a view above me, far enough from the lights I got a fairly good view above me, not far enough from the road that someone spotted me and wondered what some idiot was doing with camera and binoculars pointed up in an obscure corner of the grounds.
I get the astronomy bug honestly from my dad.  One of the very first things he taught me was the impact upon him when he was in Australia and he saw the Southern Cross. 
I saw it myself.  This genuinely was a life's ambition fulfilled.
One trip.  So many generational ties.  No wonder I get emotional.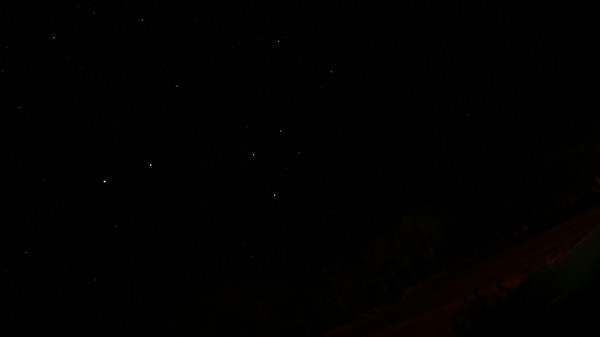 This is the photo I took at 2:02 am on March 29, 2012.  In celebration of that moment I release this image to the public domain.  A copy of the full size of this image may be found here.